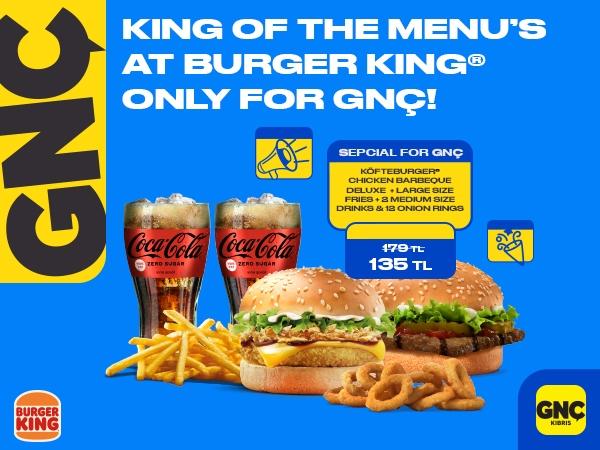 Promotion Details
This is the campaign where GNÇ customers are entitled to buy the GNÇ special menu for 135 TL instead of 179 TL for in-store purchases between 15.11.2022 and 31.12.2022 at all Burger King stores.

This campaign can be used at all TRNC Burger King® restaurants, excluding the airport and mobile restaurants, until 31 December, 2022.

This campaign cannot be used with any other promotion and the codes given within the scope of the campaign can be used until 15 January, 2023.

The menu includes 1 Köfteburger®, 1 Chicken Barbeque Deluxe, 1 large size fries, 12 onion rings and 2 medium Coca-Cola drinks in the restaurant. Ayran is not included in the campaign. A price difference applies for orange juice, lemonade and milkshake.

Campaign is valid for only subscribers in GNÇ tariff.

You can benefit from the campaign by typing BURGER and sending an SMS to 5566 by showing the code you will receive to the employee in the store.

The campaign is not valid for home delivery services made from online shopping platforms. SMS sent to 5566 are free of charge.

Each GNÇ can benefit from the campaign more than once during the campaign period.
GNÇ ADVANTAGES
OPPORTUNITIES

5GB free internet opportunity every month for GNC who are also members of MEDİ FOUNDATION STUDENT SOCIETY!

Details

OPPORTUNITIES

You are discounted up to 20% at Kolan British Hospital ! Stay healthy GNC!

Details

DISCOUNT

The Best Offer at Popeyes only for GNÇ!

Details

DISCOUNT

The Best Offer at Burger King only for GNÇ!

Details