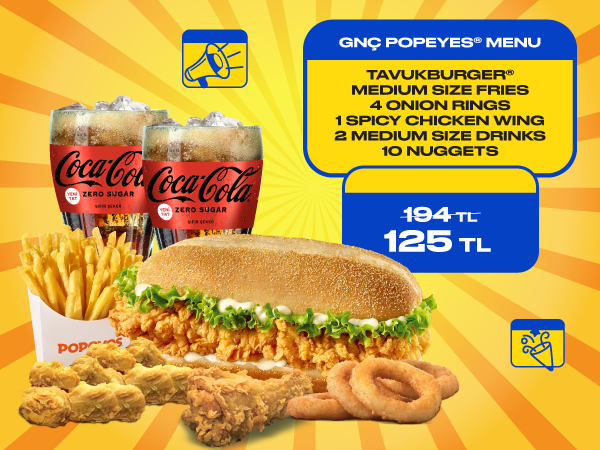 Promotion Details
Special offer all GNÇ's at POPEYES! Chicken Burger®+Medium Potatoes+4 Onion Rings+1 Hot Wings+2 Medium Sized Drinks and 10 Nuggets Special for You, Instead of 194TL for 125TL!
• To benefit from the discount, simply write POPEYES and send an SMS to 5566 and present the incoming password with your phone number to the cashier at the store.
• Campaign does not apply in the orders placed through online food platforms (yemeksepeti.com etc.).
• Only customers in the GNÇ tariff can participate in the campaign.
• Participation in the campaign is free of charge.
• Campaign is valid until 31 December, 2022.
• Every GNÇ member can benefit from the campaign unlimitedly during the campaign period.
• This campaign is valid between 15.11.2022 – 31.12.2022 at all Cyprus Popeyes® restaurants excluding airports and mobile restaurants.
• This offer cannot be used in conjunction with any other promotion. Price difference applies for orange juice, milkshake, lemonade and milk.
• The products and service type in the image are for advertising purposes, and the products may differ in restaurants. The offer is valid only for the specified product types.
• Passwords received within the scope of the campaign can be used at Popeyes branches until 15 January, 2023.
GNÇ ADVANTAGES
OPPORTUNITIES

5GB free internet opportunity every month for GNC who are also members of MEDİ FOUNDATION STUDENT SOCIETY!

Details

OPPORTUNITIES

You are discounted up to 20% at Kolan British Hospital ! Stay healthy GNC!

Details

DISCOUNT

The Best Offer at Popeyes only for GNÇ!

Details

DISCOUNT

The Best Offer at Burger King only for GNÇ!

Details